Collectors - general background.
There are two types of collector: flat plate collectors and evacuated tubes.
Flat Plate Collectors.
Flat panel collectors are composed of insulated flow tubes encased within an absorbing plate and surrounded by further insulation. This is all enclosed within a frame, usually aluminium or galvanised steel, and a transparent cover. The heat transfer fluid travels through the flow tubes and is heated, and then warms the domestic water.
Evacuated Tube Collectors.
Evacuated or Vacuum Tubes are so called because the absorber sits in a vacuum, significantly reducing the heat loss, particularly in cold weather.
The tubes are made from glass - typically ultra-strong and heat resistant Pyrex with a double wall construction. The glass on the inner tube is coated on its outer surface with an absorbent coating, and on its inner surface with a reflective coating. Inside each tube is a copper heat pipe containing a glycol / anti-freeze mixture.
There are two types of evacuated tube collector: "direct flow" and "heat pipe"
In direct flow technology, the fluid running through the copper tube is pumped all the way around the system, passing through the heat exchanger in the cylinder, and thus transferring its heat directly to the water in the cylinder.
In heat pipe technology, there is a second 'fluid circuit' running through the manifold (top) of the tubes. The fluid in the copper heat pipe in the tube is sealed off from the fluid in the manifold. As the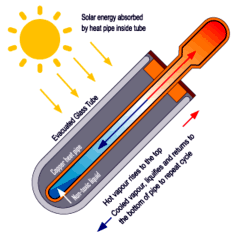 tube gets hot, the liquid in the copper heat pipe is vaporised; the hot vapours rise to the top of the heat pipe where the copper tip connects with a header pipe through which the manifold fluid flows. The heat passes from the vapour to the manifold fluid. The manifold fluid is then pumped through the heat exchanger in the cylinder.
The copper at the tip of the heat tube can reach well over 200 degrees easily heating water to 90 degrees Celsius on hot days and to 60 degrees Celsius even in the winter. This simple system is completely sealed and needs minimal maintenance over its 20+ years life.